Teacup Analytics Reviews

Have you used
this website?
If you use Google Analytics to keep track of your website's traffic then you know how overwhelming all of the data it collects can be. Even most analytics experts will agree that Google Analytics can be a headache. Thankfully, we discovered Teacup Analytics to help with this.
Most people don't have the time to make sense of Google Analytics even if they're experts at understanding analytics. This is where Teacup Analytics comes in.  
When you visit their website it says "Teacup Analytics helps you make sense of Google Analytics and truly understand your website visitors". 
For us, signing up was easy. We signed up for free by connecting Teacup Analytics with the same gmail account we use for Google Analytics. Immediately they set you up with one free report from their "Report Store."
In their Report Store you can choose from over two dozen reports which are essentially pre-made reports which would normally take you hours to set up in Google Analytics.
We loved the beautiful design of the reports and the simplicity of the user interface which right away made us never want to log into Google Analytics again. 
The next thing we noticed was how simple their pricing is. You can order each report "a la carte" for anywhere from $1.99 to $4.99 per month. Typically the ecommerce reports will be more expensive since those help you make money.
Once you've selected the reports that are most important to you, you can start diving into them to get the insight that you need about your website. This is where Teacup Analytics really shines through compared to Google Analytics, or any other analytics service we've tried for that matter.
Teacup Analytics gives your website visitors a grade so you can easily see the quality of the visitors to your website. For example, with their "How is traffic to my site trending?" report they will grade your visitors like a report card for metrics like time on site, bounce rate, etc.
In addition to their out of the box grading system you also have the ability to create your own grading system. While that might sound scary, it's actually pretty easy. With their custom grading you can use sliders like in the screenshot below so you have full control over how you want to grade your website's visitors.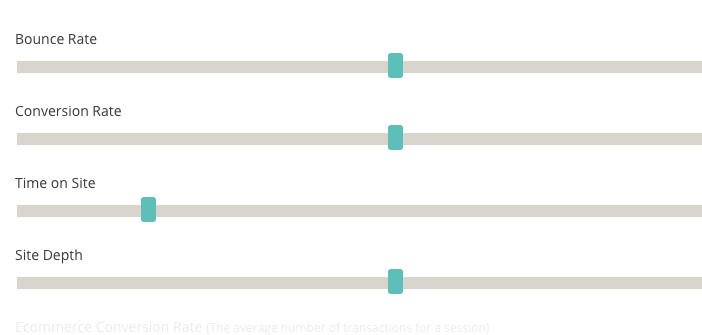 On top of their beautiful interface and intuitive reports, Teacup Analytics also has great service. Shortly after signing up their founder reached out to us to offer his help which we thought was a great sign.
They also sent us some really helpful emails with tips on how to get started and how to get the most out of their service, something that you just won't get from Google Analytics.
Overall, we found our experience with Teacup Analytics to be delightful. It was a refreshing alternative to the overwhelming dashboard full of data we're used to seeing when we log into Google Analytics.
If you're just getting feet wet with website analytics or you just don't have the time or patience to spend hours setting up reports in Google Analytics we highly recommend Teacup Analytics.
As usual, don't take our word for it. Head over to their website and sign up for free. What have you got to lose?